Rebar Eater Bits
The Rebar Eater (Pat.#4,056,152) quickly and efficiently cuts holes of 2" diameter or less in reinforced concrete. Drillco was the first company to design and manufacture such a bit and tests show that it is still the leading drill of its kind on the market. Because this bit is manufactured to such close tolerances, anchor pullout values are often higher when the Rebar Eater is used in place of competitive drills.
Available in sizes 1/2" to 2" Diameter, special sizes available.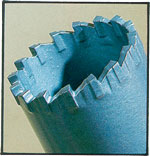 Plate Cutter Bits
Designed to operate on either the D-125 or D-500 Drilling Machine, plate cutter bits are ideal for modification of in-place plates. Because these existing plates don't have to be taken down and reworked in the shop, a considerable amount of valuable time and labor can be saved.
Available in sizes 1/2" to 6" Diameter, 1-1/4"-7 built in head for use with core drilling machines, chuck adapter for hand held drills, special sizes available.