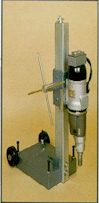 D-500 DRILLING MACHINE
The Drillco D-500 unit has become our most popular machine due to its performance and durability. Its lightweight and versatility enables the operator to handle a wide variety of drilling applications.
Available with either Dewalt 194 or Milwaukee 4096 motors.
Two Speed 20 Amp Dewalt motor with built in clutch-350/900 RPM.
Small base (6x14) lightweight aluminum base is ideal for horizontal or overhead drilling.
Large base (12x16) lightweight aluminum base provides stability for vertical drilling.
Removable cradle mount for easy wall mounting.
Center mounting slot accommodates vacuum pad and anchor bolt for easy anchoring.
Standard max bit capacity of 9" diameter with optional spacer blocks to accommodate bits up to 16" in diameter.
Accessories available.
Part # D-500-20-SB (Drill w/small base) | D-500-20-LB (Drill w/large base)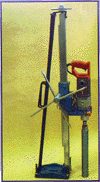 D-125-14 HAND HELD DRILLING MACHINE
The D-125-14 is ideal for small diameter holes (1/4 to 3 1/2"). This drill may be used either hand held or with the 90 degree drill stand. When used with the drill stand (optional) the D-125 provides the accuracy needed when drilling holes for anchor bolt installations. When using the hand held it is ideal for tight quarter areas.
Part # D-125-14- (5/8-11) spindle

D-1000 RECIRCULATING DRILLING MACHINE
Able to fit through a standard doorway, this one man self contained unit is ideal for electricians and other contractors looking for production drilling on an open deck area (office renovations etc.). With a built in vacuum pad anchoring system and a water collector reservoir, the D-1000 ensures that no water can escape it's built in collector ring to create additional clean up problems and water damage. The collector ring and 20 amp Dewalt motor enables the operator to drill up to a 6" hole.

D-4500-PNEUMATIC DRILLING MACHINE
The D-4500 is a custom-built, 4.5 HP, variable speed, 0-2500 RPM air motor with automatic oiler. A relatively lightweight machine, the D-4500 serves well in high-speed production work drilling small diameter holes. The back brace supplied provides the stability necessary to drill precise sized holes.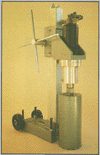 D-500-5A DRILLING MACHINE
For large bore holes, the custom-built D-500-5A is an unrivalled workhorse. Each motor posseses a planetary gear reduction setup with integral 11/4"-7 spindle and water swivel housing. The D-500-5A provides 5 HP of power at 92 PSI (6.2 bar) and may be operated at variable speeds of up to 500 RPM for 8" diameter and larger bits, 0-1000 RPM for up to 5" diameter bits. An auto oiler and built in muffler ensure quick, efficient operation.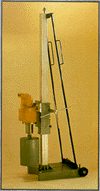 D-500-9A DRILLING MACHINE
This machine, the custom-built D-500-9A, handles the really big jobs. Powered by a 9 HP (@90 PSI /6.2 bar) super heavy duty motor with built in gear reduction, the D-500-9A expands your drilling capabilities to include 14" to 48" diameter holes. Like the D-500-5A it comes with an auto oiler and 11/4"-7 spindle. The large cast-aluminum base with back brace provides critical stability.

D-3310 Flexshaft DRILLING MACHINE
When there is not enough room to mount a standard drilling machine, the Flex-Shaft Machine may be used to drill in hard-to-reach places such as between pipes and a wall or ceiling. The flexible shaft and right angle head are similar in construction to a dentist's drill and may be used where clearances are as low as 8 inches.
If greater stability is required and there is sufficient clearance, the Flex-Shaft Machine head can be mounted on the D-3315 Drill Stand. This stand is available with either a 12" or 18" column and may be used with the D-125 Vacuum Pump and Pad Assembly.

Portable Water Swivel
Converts your electric drills into portable core drilling machines. Eliminates hammering from roto-hammers. Several style shanks availble. Comes complete with water hose and petcock.