The S.M. SERIES DIAMOND CORE BIT
These bits are designed specially for small diameter holes, 1-3/8" and smaller. When cutting small holes, large reinforcing rods and heavy psi concrete can wipe out bits quickly. Drillco has formulated the S.M. Series matrix to achieve maximum speed and performance. Ideal when a carbide bit encounters rebar and can not complete the job. Available in 5/8"-11 threads.

The C.S. SERIES DIAMOND CORE BIT
Drillco uses its own specially formulated matrix to produce its C.S. Series. The C.S. Series is designed for heavy duty coring applications and works best in heavily reinforced concrete. For 30 years the C.S. Series has been the preferred core bit for contractors who do a great deal of core drilling and prefer speed along with longevity out of their core bits.

The C.S.B. SERIES DIAMOND CORE BIT
The C.S.B. Series is preferred by contractors whose initial cost is a factor. The C.S.B. Series is an exceptional value for those with light to medium coring applications.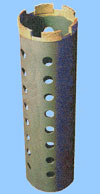 The AIR COOLED
Drillco's Air Cooled diamond bits are designed for the dry coring of holes through lightweight concrete materials such as brick, block and masonry products. Not recommended for heavy psi concrete or reinforced concrete. The CSA diamond bit allows the contractor to core clean cut holes quickly with minimal patching.
Deeply embedded segments to prevent segment loss.
Cross Drilled holes keep bit cool for rapid cutting.
Built in 5/8-11" head for use with hand held grinders and core machines.