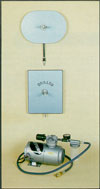 D-125 & D-500 Vacuum Pump and Pad Assembly
The purpose of the vacuum pump and pad assembly it twofold. First, the pad provides a stable support for developing a vacuum of approximately 27.5 inches Hg., the pump suctions the machine to the drilling surface so strongly that no other bracing is required. By using the vacuum pump and pad, a quick, simple drilling set-up can be achieved. The only difference between the D-125 and D-500 assemblies lies in the fact that the pad for the D-500 will accommodate a larger drill stand base.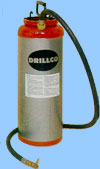 Water Tank
Portable water source 3-1/2 gallon capacity pressurized tank.
3/4" male brass garden hose fitting on tank.
Comes standard with a 3/8" id 5' rubber hose & 1/4" petcock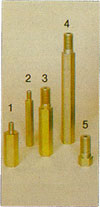 C-5000: Shaft Reducing Coupling.1-1/4"-7" Female to 5/8"-11 Male.
ER-5811-6: 5/8"-11" x 6" Extension.
ER-125-6: 1-1/4"-7" x 6" Extension.
ER-125-12: 1-1/4"-7" x 12" Extension.
C-5500: Step Up Coupling. 5/8"-11" Female to 1-1/4"-7" Male.

Overhead Collector Ring
Used for overhead and horizontal drilling. Completely contains water and debris in housing. Water and debris are channeled through a 3/4" rubber hose. Attach wet vac to hose for best results. Comes complete with vacuum pump. Pump is used to suck housing to surface. Specify drill diameter when ordering.
| | | |
| --- | --- | --- |
| Part nbr. |   | Description |
| 0408-0010 |   | |
| 0408-0020 |   | Overhead Collector up to 2" dia. |
| 0408-0030 |   | Overhead Collector 2-1/2" to 4" |
| 0409-0010 |   | |